Chlorpyrifos thiram, a powerful combination of pesticides, has proven to be an effective tool in protecting crops against pests and diseases. As the world's population continues to grow, ensuring food security becomes increasingly challenging. Farmers around the globe are constantly searching for innovative methods to safeguard their crops and maximize yields. Chlorpyrifos thiram has emerged as a reliable solution in this pursuit.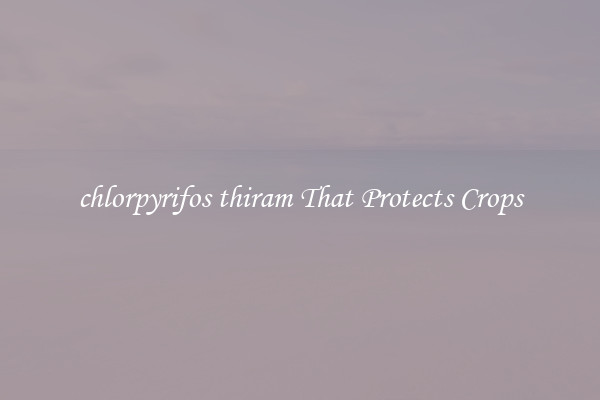 Chlorpyrifos is an organophosphate insecticide, widely used in agriculture to combat a range of insect pests. It works by inhibiting the activity of an enzyme crucial for the proper functioning of the insect's nervous system. The result is the disruption of normal nerve impulses, eventually leading to the pest's death. This potent insecticide has proven effective against a wide variety of pests, including aphids, beetles, caterpillars, and mites.
Thiram, on the other hand, is a fungicide that provides protection against fungal diseases that can devastate crops. Fungal infections pose a significant threat to agricultural productivity, causing extensive damage and yield losses. Thiram acts by creating a protective barrier on the crop's surface that inhibits the germination and growth of fungal spores. This effectively prevents the establishment of infections and the subsequent spread of disease.
The combination of chlorpyrifos and thiram offers a comprehensive protection package against both insect pests and fungal diseases. By utilizing these powerful pesticides together, farmers can effectively combat multiple threats to their crops. This not only increases yields but also minimizes economic losses and promotes sustainability within agricultural practices.
One of the notable benefits of chlorpyrifos thiram is its long-lasting residual effect. Once applied, the pesticides remain active on the plant's surface for an extended period, providing continuous protection against pests and diseases. This saves both time and resources for farmers, as they do not have to constantly reapply the product. Additionally, the residual effect reduces the need for excessive pesticide use, resulting in reduced environmental impacts.
Furthermore, chlorpyrifos thiram has proven to be relatively safe for non-target organisms when used as directed. Extensive research and regulatory scrutiny ensure that these pesticides meet established safety standards. However, it is essential for farmers to strictly follow the recommended dosage and application guidelines to minimize any potential risks.
While chlorpyrifos thiram offers numerous benefits, it is crucial to consider its proper integration into integrated pest management (IPM) strategies. IPM promotes a holistic approach to pest and disease control, emphasizing the use of a variety of techniques such as biological control, crop rotation, and cultural practices. By integrating chlorpyrifos thiram into the broader IPM framework, farmers can optimize its effectiveness and reduce their reliance on pesticides.
In conclusion, chlorpyrifos thiram provides an effective and efficient solution for crop protection against insect pests and fungal diseases. Its potent combination offers long-lasting residual effects, minimizing the need for repeated applications. When used responsibly within the context of integrated pest management, chlorpyrifos thiram can contribute significantly to global food security and sustainable agriculture.