Handy CD-R Discs Manufacturers for Recording Different Media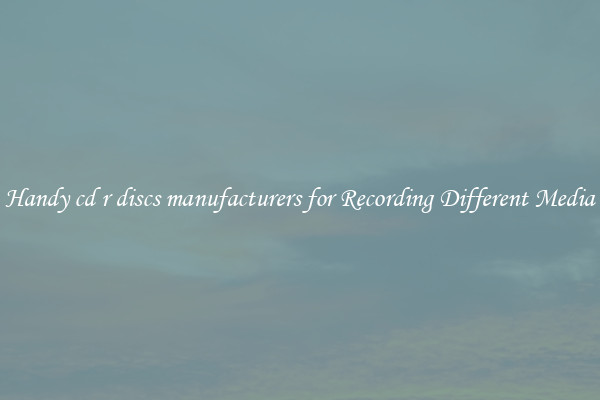 CD-R discs have been around for quite some time and are still widely used for recording various forms of media. Whether you want to create your own music compilation, store important files, or archive precious memories, CD-R discs are a convenient and durable option. There are numerous manufacturers of CD-R discs, but in this article, we will focus on some of the handy CD-R disc manufacturers known for their quality products.
One notable manufacturer is Verbatim. Verbatim CD-R discs are known for their excellent compatibility and long-term data preservation. Their discs offer a large storage capacity of up to 700MB, allowing you to record plenty of files or media content. Verbatim CD-R discs also feature a proprietary recording layer that ensures optimal recording quality and a scratch-resistant surface for added durability. If you value reliability and longevity, Verbatim is a trusted brand to consider.
Another popular choice is Sony. Sony CD-R discs are renowned for their exceptional recording quality and compatibility. With storage capacities ranging from 650MB to 700MB, their discs offer a generous amount of space for your recordings. Sony CD-R discs also feature a unique recording layer that minimizes errors and ensures smooth playback. These discs are widely used by both professionals and enthusiasts due to their consistently reliable performance.
Taiyo Yuden is another manufacturer that deserves recognition. Taiyo Yuden CD-R discs are highly regarded for their exceptional accuracy and compatibility. These discs are manufactured with a specially formulated recording dye that provides maximum recording stability and minimum error rates. Taiyo Yuden CD-R discs are known for their durability and resistance to UV and heat, making them an excellent choice for archival purposes.
If you are looking for value for money, Memorex is a brand to consider. Memorex CD-R discs offer an affordable option without compromising on quality. These discs provide a reliable recording surface that ensures accurate data storage and smooth playback. Memorex CD-R discs also come in a variety of designs, allowing you to add a personal touch to your recorded media.
When choosing a handy CD-R disc manufacturer, it is essential to consider your specific needs. Look for manufacturers known for their compatibility, recording quality, and durability. Also, consider the storage capacity and design options offered by different brands.
In conclusion, handy CD-R disc manufacturers play a crucial role in providing quality products for recording various forms of media. Whether you are a professional or an enthusiast, having reliable CD-R discs is essential for preserving and sharing your content effectively. Consider reputable brands like Verbatim, Sony, Taiyo Yuden, and Memorex when looking for handy CD-R discs that meet your requirements.